Thermostats/Temperature Controllers
Honeywell
T6360 Specifications
Description
Features:

Dual diaphragm temperature sensing element
Suitable for surface or switch box mounting
Heat anticipator for close temperature control
10 to 30C setpoint range
Change-over contact switching (cooling loads)
Double insulated
Boiler Plus compliant for system boilers when used with a timer or programmer
Options:

Temperature setback model
Tamper resistant model
Model with indicator lamp
Setting dial marked 1 to 5
High current rated model
Range stops
T6373 Specifications
Description
Dual diaphragm sensing element ensures close temperature control for all loads and applications.
Attractive modern styling makes this thermostat ideal for locating in the occupied space, particularly in offices or hotels.
All versions have heat anticipator, which improves temperature control in both heating and cooling operation.
Thermostat mounts directly onto a wall or conduit box.
Slide switches allow manual control of system operation and fan speed
Auto heat/cool changeover possible (on some versions) by using pipe thermostat
Optional extras:
range stops
tamperproof cover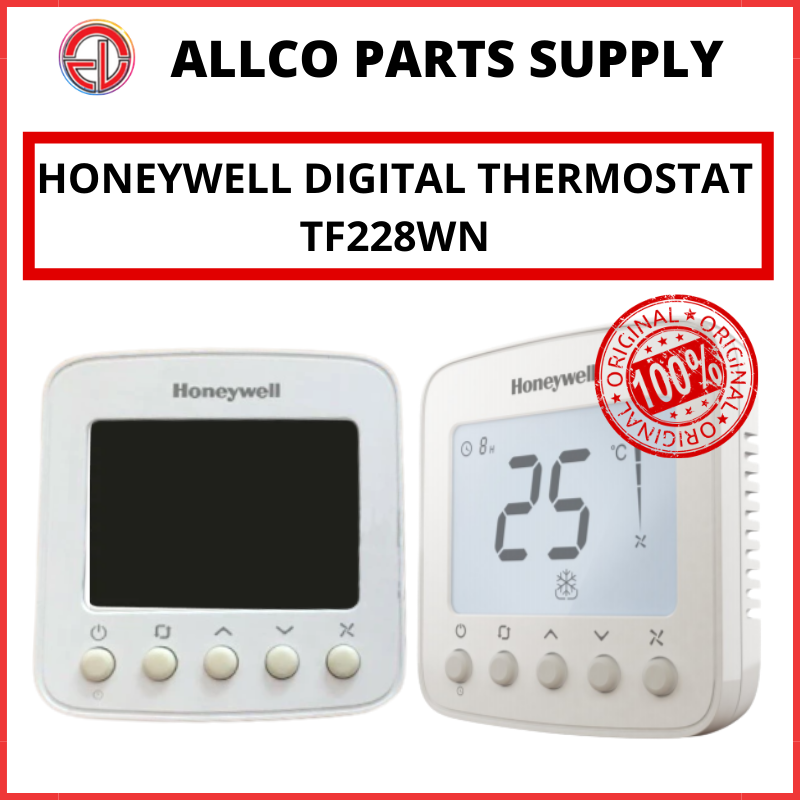 TF228WN-C Specifications
Description
General:

2-pipe cool only/heat only/manual changeover
Ventilation mode
Manual or automatic 3-speed fan control
Water valve control
Features:

Memorized time off
Cycle Per Hour (CPH)
Random startup
LCD display with simple user interface
Room temperature or setpoint temperature display selectable
Manual or automatic fan speed selectable
Temperature units in either C or F
User setting can be stored with power loss
Freeze protection available
Four keypad lock options
Heating and cooling setpoint limitation
Flush mount on standard 86 wall mounting box
Properties:

Power supply 220(+10%,-15%)VAC, 50Hz
Control PI, On/off output
Accuracy +1/-1C at 21C
Rating capacity 3A for fan load
2A for zone valve
Protection class IP20
Set point range 10 ~ 32C
Display range 0 ~ 37C
Ambient operating limits 0~ +49C
Ambient storage limits -30 ~ +49C
Humidity limits 5~90% RH, non-condensing
Eliwell
IC974 Specifications
Description
Attributes:

Digital Output Type
12V Supply Voltage
Size : 74 x 32mm
Number of Inputs : 2
Number of Outputs : 1
Minimum Operating Temperature : -5C
Maximum Operating Temperature : +55C
IP Rating : IP65
Range : -55 to +1405C
Panel Depth : 60mm
Input Type : NTC, PTC, RTD
Series : IDPlus
IDPLUS902 (Selectable by Parameters)
Items
Specifications
Display Range
NTC probe -50,0 ... 110,0C
PTC probe -55,0 ... 140,0C
Pt1000 probe -55,0 ... 150,0C
Display
with decimal point * 3 digits + sign
Analogue inputs
1 PTC / NTC / Pt1000*
Configurable inputs
1 digital (SELV)/analogue (PTC/NTC/Pt1000*)
Connections
TTL port for connection to Unicard/Copy Card or TelevisSystem/ModBus monitoring device*
Digital Outputs
N.A. 8(4)A - N.C. 6(3)A max 250V
Measurement Range
-55,0 ... 150,0C
Power Consumption
4,5W max
Power Supply
230V ~+/-10% 50/60Hz
12V~/c+/-10% 50/60Hz
Dimensions
74 x 32 x 59 mm
HACCP
Present
You may also like
ROBINAIR REPLACEMENT PARTS & ACCESSORIES
FLARING, SWAGING & PUNCHING TOOL